Your everyday miracle
Cryospot
The effects of the Cryospot are enormously versatile. With its -150°C cold ice jet, it cools your problem area in a targeted manner and can thus alleviate your complaints, boost your regeneration and increase your "all-round well-being" – for a better quality of life.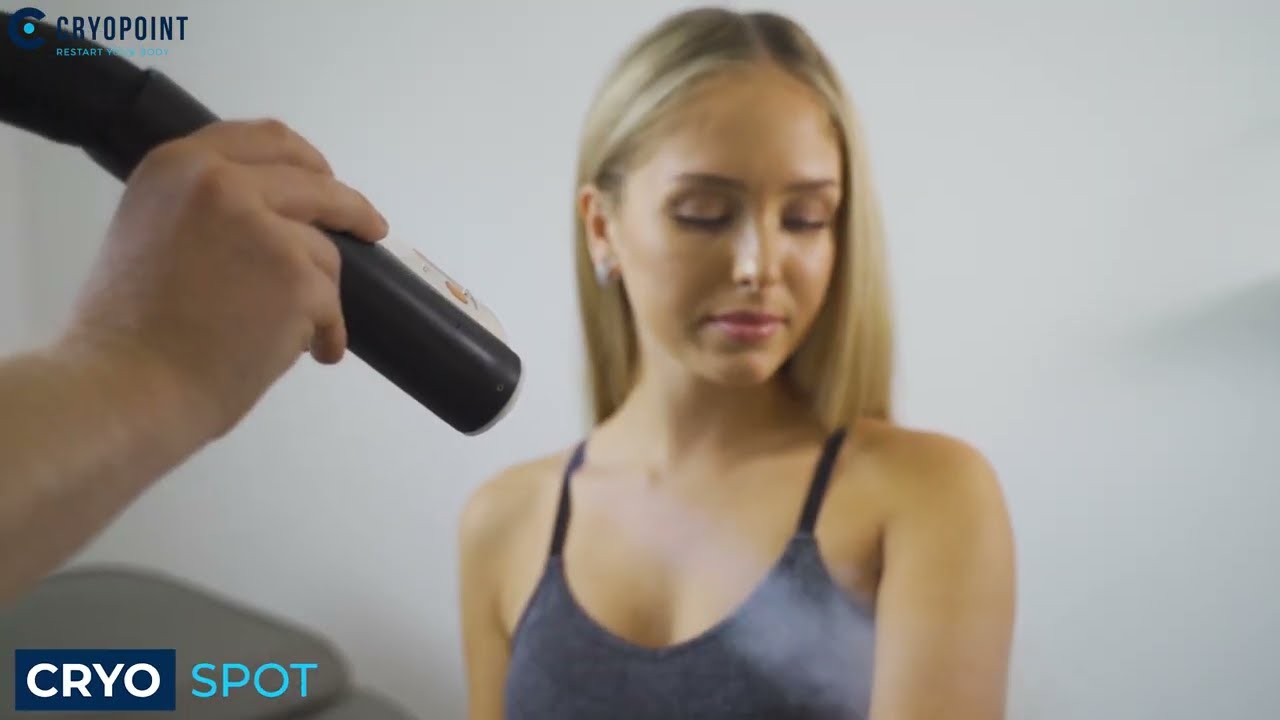 As numerous studies prove, cold has versatile, positive effects on our body. The Cryospot can cool your problem areas in a targeted manner, release enormous cold effects and thus give you more quality of life through the selectively applied -150 degree cold "ice jet".
Relax, regenerate, get going.
Und so funktioniert es
Wenn du das erste Mal bei uns bist, spricht eine unserer Mitarbeiter*innen mit dir über deine Ziele und beantwortet all deine Fragen. Gemeinsam legt ihr fest, in welchen Bereichen der Cryospot dich unterstützen kann.
The "ice jet" of the Cryospot consists of liquid nitrogen and cools down to -150 °C in a few seconds. Don't worry: the dry cold makes it much more pleasant than you might think. For maximum relaxation, the strength of the "ice jet" is individually adjusted.
Fast and effective: the application takes only 3 minutes. You can fully relax and let the cold work for you. Afterwards you are ready for your everyday life – including the Cryospot freshness kick.
Book your appointment now and see for yourself!
Let our everyday miracle convince you. A -150°C cold ice stream cools specifically your problem areas and can thereby relieve your discomfort. We are looking forward to seeing you!
What are you waiting for? Book your appointment now!
Find a location near you and let us treat you to a break from everyday life. We look forward to seeing you!
We are happy to help you
Do you have any questions?
Feel free to stop by one of our stores if your questions can't be answered. We will be happy to advise you without obligation!
How do I book and pay for an application?
Simply click on one of the "Book appointment" buttons, select the application and a suitable date. Payment is made directly on site.
Are there any contraindications?
Only for people who have allergy to cold.
Does the cold of the Cryospot hurt?
Of course, everyone is different, so we can't speak 100% for you now. However, almost all users are amazed at how pleasant the cold is. This is because the Cryospot radiates dry cold onto your skin.
Some users experience redness in the area where the Cryospot is applied. This is due to the increased blood flow. Don't worry, the redness will also go away quickly and the effects can stay 🙂 .
Can I expect permanent results or do I need multiple sessions?
Most users report lasting and very fast effects.
It's important to think long-term: every body is different. For one person it takes longer, for another it goes faster.
It depends on your goals, desires and situation. Depending on the situation, you may need to come several times to increase the effects.
Suggestion: At your first session, simply talk to the local experts about your situation and goals. They can advise you perfectly if one or more sessions are recommended.
How does the Cryospot work?
The Cryospot works with nitrogen. In just a few seconds, the Cryospot cools the nitrogen down to – 150 °C. The "ice jet" cools the zone where you want to use the power of cold for yourself. At the same time, the cold has an effect down to the deeper layers of tissue.
With these effects, our users boost their regeneration and well-being.
Are there complementary applications?
We recommend lymphatic massage in combination with Cryospot. The pleasant pressure wave massage supports your body and organism in a natural way. Applied to the upper or lower body, it can stimulate the lymphatic system and boost the detoxification process.
What do I have to consider before/after the Cryospot?
You don't need to do any special preparation. Just do not apply any creams immediately before the application, it may reduce the effect.
Afterwards, there is nothing to take care of. You can start again immediately.
How does the Cryospot session work?
Once you are with us, you will be individually advised by our great, nice team.
You lie down on a super comfortable couch and the Cryospot starts to cool your desired zone with – 150 °C. Don't worry: it doesn't hurt. Don't worry: it doesn't hurt. The strength of the "ice jet" is individually adjusted to you, so that you experience a pleasant 3 minute cold experience.
Afterwards, you can start your everyday life with a new skin feeling.
When will I see the first results?
Viele unsere Kund*innen berichten davon, dass sie sofort nach der ersten Session enorme Veränderungen spüren. Das ist jedoch von Person zu Person unterschiedlich und lässt sich pauschal nicht sagen.
How long does an application last?
What measures have you taken with regard to Covid-19?
Our hygiene standards are basically Corona-compliant: we disinfect our booths, give 1:1 appointments, and our customers wear mouth-nose masks to protect their airways. Currently, we therefore only had to extend our measures to the extent that the mouth-nose protection should be worn during the entire stay.
Are there any studies that confirm the effectiveness of the Cryospot?
Neben den zahlreichen Feedbacks unserer Kund*innen gibt es diverse wissenschaftliche Studien zu unterschiedlichen Bereichen der Kälteanwendungen. If you want to know more, you can find an overview here:
Click here
.
To the Top
Get the best out of your body
To further maximize your success, you can also combine different offers. Just ask in the store for our combination offers.