Cryofacial
Forget Botox, hyaluronic acid, expensive wrinkle and acne creams. Experience the Hollywood beauty star near you now.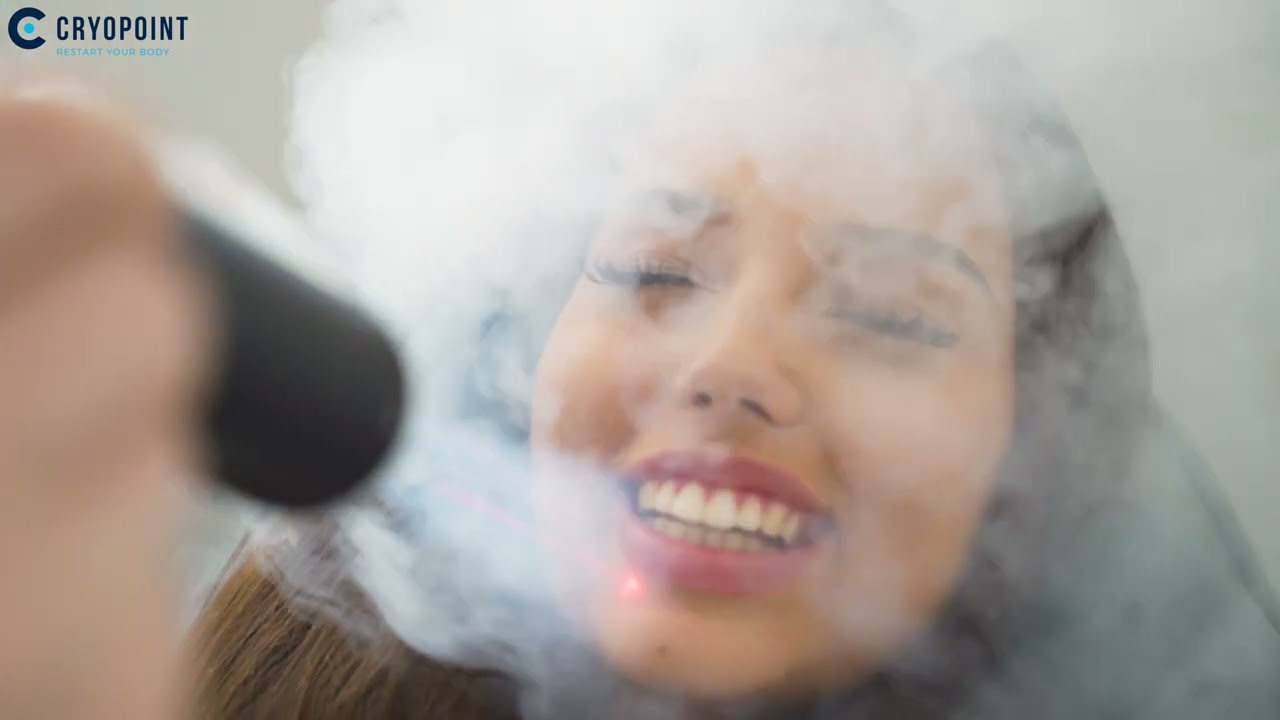 Restart Your Skin – Let the cold work for you and make your face glow.
The "ice jet" consists of liquid nitrogen. It reaches temperatures of up to -150 °C in just a few seconds. Don't worry: it sounds extreme. But the dry cold is much more pleasant than you might think.
For the best results, we use sensitive lasers to measure the temperature of the upper skin layer during the 6-minute application. The strength of the "ice beam" is individually adjusted to you so that you experience a pleasant cold sensation.
The best thing is: you don't have to choose a target. The cold works on all levels: From anti-aging to blemished skin. After the short wellness trip with the wow effect, you can start again immediately with softer, radiant and firmer skin.
Book your appointment now and convince yourself!
Enjoy the 3 minute freshness boost at temperatures of up to -110 °C. Let the power of cold convince you. We are looking forward to seeing you!
What are you waiting for? Book your appointment now!
Find a location near you and let us treat you to a break from everyday life. We look forward to seeing you!
We are happy to help you
Do you still have questions?
Feel free to stop by one of our stores if your questions can't be answered. We will be happy to advise you without obligation!
How do I book and pay for an application?
Simply click on one of the "Book appointment" buttons, select the application and a suitable date. Payment is made directly on site.
What do I have to consider before/after the Cryofacial?
You do not need to remove your makeup or do any special preparation. Just please do not apply any creams immediately before the application, this could soften the effect. Afterwards, there is nothing to pay attention to. You can start again immediately.
For whom is Cryofacial suitable?
Cryofacial is suitable for all people who care about their appearance in a healthy, sustainable and probably the most effective way.
The Beauty Star is suitable for you if you want to
want to reduce wrinkles in a natural way,
want to get rid of skin impurities,
want to always look as relaxed as if you had just come from a vacation,
you don't want to spend money on harmful beauty methods,
want to have an even, young face.
Cryofacial can
give your tired skin a fabulous freshness boost,
reduce dark circles and wrinkles,
shrink your pores,
reduce acne, pimples and even pigmentation spots and small scars,
and strengthen your skin naturally.
For beauty AND health.
How long does the application take?
How does Cryofacial work?
The Beauty Star works with nitrogen. This means that your upper skin layer can be cooled to 15 °C within a very short time. During the 6 minute application, a laser measures the temperature on your skin to achieve the optimal results. The cold can increase your collagen production, reduce swelling, remove toxins and damaged skin cells, and dry out impurities. It also stimulates blood flow to the vessels under your skin and can help you feel good.

What measures have you taken with regard to Covid-19?
Our hygiene standards are basically Corona-compliant: we disinfect our booths, give 1:1 appointments, and our customers wear mouth-nose masks to protect their airways. Currently, we therefore only had to extend our measures to the extent that the mouth-nose protection should be worn during the entire stay.
Who is eligible for the trial session discount?
Outside of special promotions, the trial offer is valid for everyone who books the Cryofacial application at the respective location for the first time.
Are there any contraindications?
Only for people who have allergy to cold.
How does the Cryofacial session work?
As soon as you are with us, you will be individually advised by our great, nice team. You will lie down on a super comfortable couch and the Cryofacial jet will start to cool your skin to 15°C. Don't worry: it doesn't hurt. The strength of the "ice beam" is individually adjusted to you, so you experience a pleasant 6-minute cold experience. Afterwards, you can start your everyday life with a new skin feeling.
Does Cryofacial / the cold hurt?
Of course, everyone is different, so we can't speak 100% for you now. However, almost all users are amazed at how pleasant the cold is. This is due to the fact that the Cryofacial radiates dry cold onto your skin. Some users become a little reddish in the face immediately after the Cryofacial. This is due to the increased blood flow, which can also make your skin feel promptly firmer and softer. Don't worry, the redness also goes away quickly and the effects can stay 🙂 .
Can I expect permanent results or do I need multiple sessions?
Most users report long-lasting and very fast effects. It is important that you think long-term: every skin is different. For one person it takes longer, for another it is faster. Also, every situation is different. If you have very strong skin impurities, you will most likely not have clear, smooth and firm skin after the first session – like the proverbial baby's bottom, so to speak. This does not mean that you will not see results after the first session. In fact, you will most likely see significant improvement after the first session and maximize and refresh that with additional sessions. So in summary: It depends on your goals, desires and situation. Depending on that, you may come several times to experience the maximum clear, firm and soft skin. And of course, the overall package is important too. If you eat a lot of fast food, then of course the pimples will come back at some point and you will have to come to the Cryofacial application more often so that the pimples stay away permanently. Suggestion: Just talk to the experts on site about your wishes and goals during your first session. They will be able to advise you perfectly if one or more sessions are recommended.
Are there studies that confirm the effectiveness of the cryofacial?
In addition to the numerous feedbacks from our customers, there are various scientific studies on different areas of cold applications. If you want to know more, you can find an overview here:
Click here
.
To the Top
Get the best out of your body
To further maximize your success, you can also combine different offers. Just ask in the store for our combination offers.